Tensegrity Chair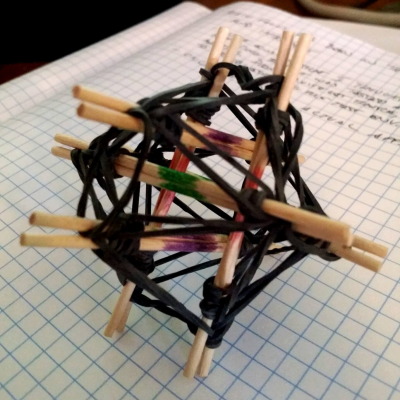 My kids and I discovered these fun little projects at the Charlottesville Makers Fair (thanks Dan!) and we were so taken with them that we stopped at Michaels on the way home and bought a few packs of little wooden sticks and rubber bands to play with.
A few days later, there were lots of little tensegrity shapes floating around the house.
At some point, I figured out how to join a couple of basic shapes and, after fiddling with the dimensions a bit, I got the idea that it would make an interesting bar stool.
I've built a full-sized model that I'm pretty happy with, but it will actually need to shrink a bit and the materials will have to be better thought-out before anyone actually attempts to sit on the thing.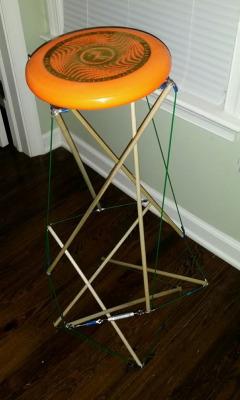 For my first attempt at a real chair based on the design, I've decided to go with oak dowels and steel cable and, in the few weeks that I've been musing over the design, I've finally come up with a design for the cable attachment that will: * allow for the bottom of the chair to be wood (as opposed to the head of a phillips screw like the model) * allow for a single strand of steel cable to serve for more than a single tension member (to simplify both the attachment points and the assembly) * take advantage of my ability to do a little 3d printing to make for a more elegant design than would be possible using my existing set of crafty skills